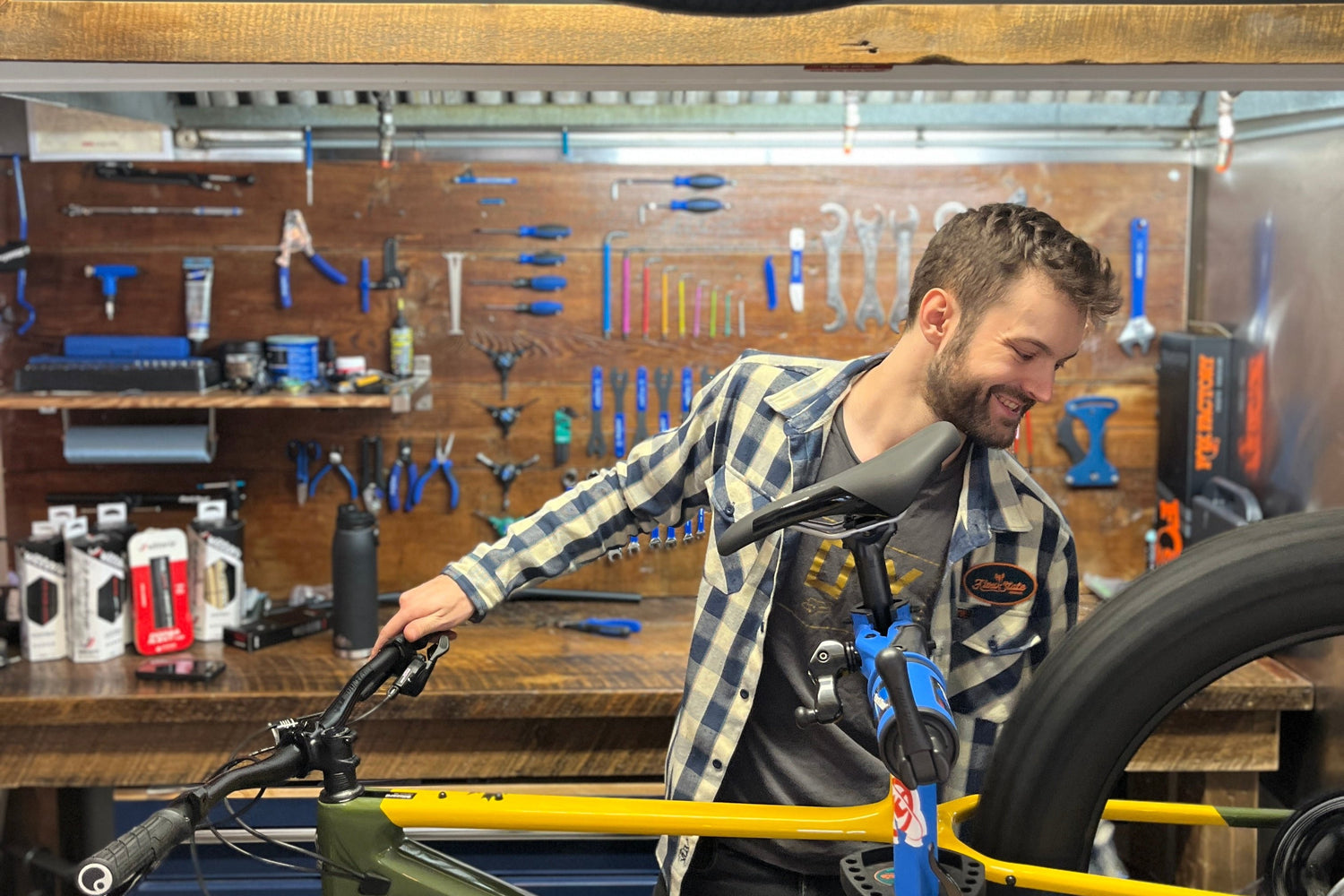 Your Friendly Bike Service Experts
At Flow State, we offer a full range of bike repair and maintenance services to get you back on the trails, gravel, or road. From fixing a chain to a complete bike overhaul, we look forward to getting you back in the saddle.
​
Book a drop-off time by clicking below. Our experienced mechanics will perform a quick assessment of your bike, identify any specific issues, and explain to you exactly what service your bike requires and how long it should take us.

Every bike we sell comes with a free tune up within 3 months of purchase.

Book My Appointment
Bike Tune Up Packages
The Espresso

Quick Tune

$59.99

- Drivetrain adjustment & lubrification

- Brake adjustment & pad inspection

- Torque inspection on all nuts & bolts

- Tire inspection & proper inflation

- Frame inspection

The Cortado

Moderate Tune

$99.99

Espresso tune plus:

- Wheel truing

- Hub & headset adjustment

- Bottom bracket inspection & adjustment

- Disc brake (or rim) cleaning 

- Moderate frame & fork clean

The Cappuccino

Major Tune

$149.99

Cortado tune plus:

- Thorough bike clean

- Drivetrain degrease, clean, and lubrification

- Bearing adjustment

- Lube cables

- Installation of parts & accessories included

The Affogato

Overhaul

$219.99

Cappuccino tune plus:

- Full bike strip

- Hydraulic brake bleed

- New cable and housing as required

- Component inspection, clean, and lubrification

- Reassembly and tune
Additional Bike Services
Wheel truing starting at $30
Hydraulic Brake Bleed: $35 per brake 
Hydraulic Brake Setup and Installation: $60 per brake 
Tube Replacement: $25 (tube extra) 
Tubeless Setup: $35 per tire (includes sealant. Valve stems extra) 
Rear Derailleur Tune: $30 (includes chain lube) 
Front Derailleur Tune: $20 
Bike Build (assembly of bikes not sold in store): $90
Bike Boxing (for travel/shipping): $75 (cardboard box can be included) 
Drivetrain Clean: $50 (includes removal and soaking of drivetrain) 
Full Suspension Linkage & Bearing Inspection & Clean: $75 
Shift Cables & Housing Replacement: $20 for one / $30 for two (parts included)